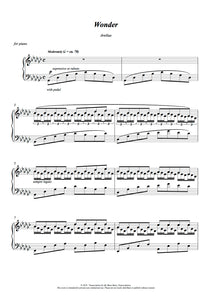 For 75% off the complete works that includes the "Wonder" Sheets Click Here
🎶 Dive into the Tranquility of "Wonder" - A Captivating Piano Composition 🌌
Discover the serene beauty of "Wonder," a relaxing and peaceful piano composition and the second track from the EP Lucid Dreamin' II. With its enchanting melodies, "Wonder" has quickly become the most streamed piece of music from this mesmerizing collection. Here's what "Wonder" has to offer:
🌟 Meditative Bliss: Immerse yourself in the meditative bliss of "Wonder," a composition that will soothe your soul and transport you to a place of tranquility.
🎹 Embrace the Freedom: Allow yourself to be carried away by the freedom found in "Wonder," where the music arises from a state of mind uninhibited by conscious thought.
⭐ A Magical Connection: Establish a magical connection with "Wonder," as the piano notes express emotions and feelings beyond words.
Don't miss the opportunity to experience the tranquility and creativity of "Wonder" sheet music. Purchase your copy now and let the meditative melodies transport you to a world of musical wonder. 🎶🌌