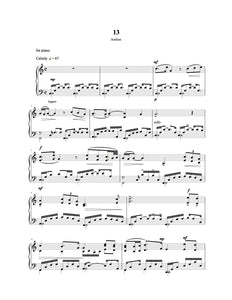 Buy the Original Piano Score
 🎶 Explore the Magic of "13" - A Captivating Sheet Music Experience 🎹
Immerse yourself in the enchanting world of "13" with this captivating sheet music. Let the notes of this mesmerizing composition transport you to a place of musical wonder. Here's what "13" has to offer:
🌟 Emotive Melodies: Experience the depth of emotion as you play "13" on the piano, evoking a range of feelings and captivating your audience.
🎵 Beautiful Harmonies: Delight in the beautiful harmonies woven throughout "13," creating a magical and unforgettable musical journey.
🏆 A Masterpiece in Your Hands: Hold the brilliance of "13" in your hands and explore the artistry of this captivating composition.
🎹 Perfect for All Skill Levels: Whether you're a beginner or an experienced pianist, "13" is a piece that will inspire and challenge you.
⭐ Elevate Your Repertoire: Add a touch of elegance to your piano repertoire with the haunting beauty of "13."
🎓 Experience Musical Brilliance: Immerse yourself in the genius of this exceptional sheet music and elevate your musical prowess.
Don't miss the opportunity to experience the magic of "13" on the piano. Purchase your sheet music now and embark on an unforgettable musical journey filled with emotion and beauty. 🎶🎹