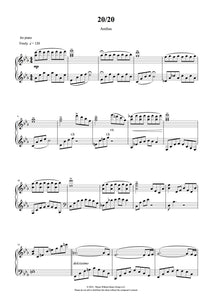 For 75% off the complete works that includes "20/20" Click Here
🎶 Embrace Clarity with "20/20" Sheet Music - Inspired by Wayne's Journey through London 🏙️
Embark on a musical journey through London with the captivating piano solo, "20/20," from the Sleepwalker Collection. Inspired by Wayne's transformative 2019 summer trip to his beloved hometown, this piece reflects the beauty of rediscovering familiar landscapes with a fresh perspective. Here's what "20/20" has in store:
🎵 Melodic Reflection: Immerse yourself in the contemplative melody of "20/20," born from Wayne's leisurely boat trip along the River Thames, symbolizing the clarity of vision.
🏆 Seeing Things Clearly: "20/20" represents the power of seeing familiar surroundings with renewed clarity, reminding us to cherish the wonders we may have once taken for granted.
🎹 Perfect for Advanced Beginners: This eloquent composition is thoughtfully arranged for advanced beginners, making it accessible for pianists at various skill levels.
🎓 Embrace the Beauty of Rediscovery: As you play "20/20," you'll not only explore a captivating piano piece but also experience the joy of rediscovery through the power of music.
Don't miss the opportunity to embrace clarity and traverse the streets of London with "20/20" sheet music. Purchase your copy now and embark on an unforgettable musical journey filled with newfound perspective and beauty. 🎶🏙️
For 75% off the complete works that includes "20/20" Click Here