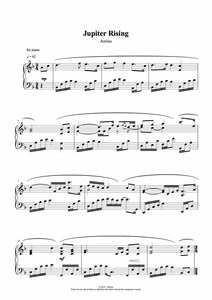 Wayne came across the Planets by Holst not through study or his classical background but rather Star Wars. Star Wars is still undoubtedly one of the most iconic soundtracks of all time. "It gives me goosebumps just now writing this thinking about it" said Wayne when talking about the first time he heard that soundtrack

"When you have a chance take a listen to the 'Planets', you'll hear what inspired John Williams to write that score. The mood and feeling of Star Wars is contained in this body of work. How amazing is that ?"
Wayne said also, there is a very famous hymn he had heard as a kid called "I Vow to Thee my Country". It is very powerful when combing those words with the music of Holst. 
This is a very special piece of music to Wayne and the original work by Holst was a major inspiration to him and his career in Music.