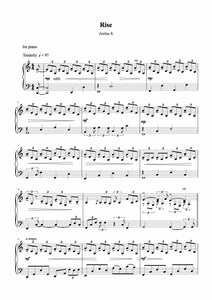 For 75% off the complete works that includes Rise Click Here
🎹 Experience the Beauty of "Rise" - Inspirational Piano Sheet Music 🎵. 

Discover the beauty of "Rise," an inspirational piece of piano music by Arelius. This captivating composition offers piano players the following:
🌟 Feel the Emotion: Immerse yourself in the heartfelt emotions that "Rise" conveys, transporting you to a place of inspiration and beauty.
🎶 Explore New Melodies: Delight in the enchanting melodies and harmonies that make "Rise" a truly unique and captivating piece to play.
🏆 Inspire Your Playing: Let the uplifting notes of "Rise" inspire you and infuse your piano playing with renewed passion and creativity.
🎹 Suitable for All: Whether you're a beginner or an experienced pianist, "Rise" offers a beautiful experience for all skill levels.
⭐ A Touch of Elegance: Add a touch of elegance to your repertoire with this beautiful and soulful piano composition.
🎓 Elevate Your Musical Journey: Experience the joy of playing "Rise" and take your musical journey to new heights.
Don't miss the chance to play "Rise," an inspirational piece of beautiful piano music that will touch your heart and elevate your playing. Purchase your copy now and experience the beauty of "Rise" for yourself. 🎹🎵
For 75% off the complete works that includes Rise Click Here