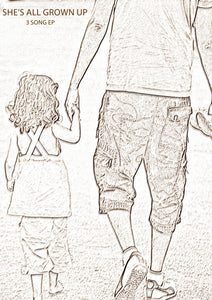 Welcome to my music store, where I share my passion for piano and the beauty of emotive music. If you're a pianist who has been searching for expressive compositions to play, then you're in for a treat! I'm excited to offer you a sheet music compilation that includes three of my most heartfelt piano solos: "These are the days," "She's all grown up," and "One Last Dance."
Each piece is carefully crafted to evoke emotions that will resonate with both pianists and listeners alike. "These are the days" encourages us to cherish the present, while "She's all grown up" reflects on the journey of growth and maturation. "One Last Dance" is a touching tribute to the unbreakable bond between loved ones.
With this sheet music compilation, you can bring the beauty and emotion of these compositions to life in your own home. Each piece is meticulously transcribed to ensure that you can play them with ease, and the sheet music is available in digital format for your convenience.
Whether you're looking for a piece to showcase your artistry or simply seeking a moment of beauty and reflection, I invite you to add this sheet music compilation to your collection. You won't be disappointed!
Thank you for supporting my music, and I look forward to sharing more of my compositions with you in the future.